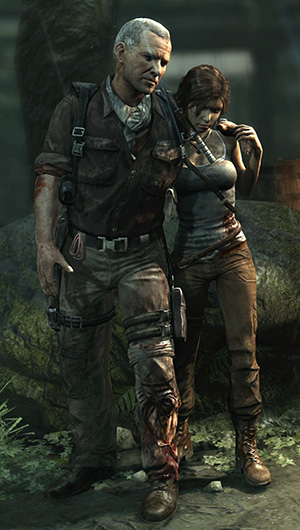 Go ahead and lean on me! Download a Tomb Raider savegame file.
These Windows PC save files were made using the Steam download patched to the latest version available at the time. As far as I know, subsequent patches do not affect file compatibility.
Each zip file linked below includes several save files for each level, each inside a folder named to describe where in the game it was made. The last file includes one save with the game completed to 100%. Click here for installation instructions and a few IMPORTANT WARNINGS.
Area 1: Scavenger's Den (following QTEs)
Area 2: Coastal Bluffs
Area 3: Coastal Forest
Area 4: Mountain Temple
Area 5: Mountain Village (first visit)
Area 6: Base Approach
Area 7: Mountain Base
Area 8: Base Exterior
Area 9: Cliffiside Village
Area 10: Mountain Village (second visit)
Area 11: Mountain Pass (first visit)
Area 12: Chasm Monastery
Area 13: Mountain Village (third visit)
Area 14: Mountain Descent
Area 15: Shantytown (parts 1 & 2)
Areas 16 & 17: Cavern Entrance & Geothermal Caverns
Area 18: Solarii Fortress
Area 19: Fortress Tower
Area 20: Summit Forest
Area 21: Gondola Transport
Area 22: Shipwreck Beach (first visit)
Area 23: Cliffside Bunker
Area 24: Shipwreck Beach (second visit)
Area 25: Research Base (includes Shipwreck Beach third visit)
Area 26: Mountain Pass (sceond visit)
Area 27: Chasm Stronghold
Area 28: Chasm Shrine
Area 29: Chasm Ziggurat
TOMB RAIDER 100% complete PC save file