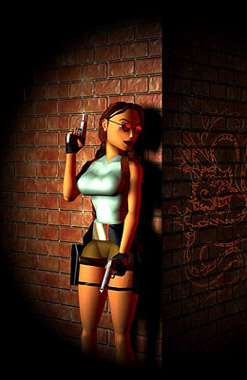 Aha...a corner! That gives me an idea!
NOT ALL BUGS ARE BAD. Like most computer/video games, the Tomb Raider series has its share of glitches. Some are mildly annoying, some are deadly—to Lara, that is. (The nastier bugs are covered in the walkthroughs in the levels where they occur.) But there are a few that can actually enhance your gaming experience. Some can get Lara to places she wouldn't otherwise be able to go. Some can even save her life. To find out all you need to know about these good bugs, read on.
For more information on where and how to apply these bugs, check out these sites: Tomb Raider Tourist, TR Tourist's YouTube Channel, Tomb Runner and the Tomb Raider Bugs section of TReditor.hu. In addition to the basic bugs covered here, these sites include variations on regular moves like the standing jump, running jump and backflip, where you can do special set-ups to cover more distance.
Special thanks to Theresa Jenne, whose site, tombraiders.com, is no more. Theresa was known as the queen of the Expert Challenge and she inspired many diligent bug-finders over the years. Some of her walkthroughs can still be found in the Web Archives. We miss you, T.!