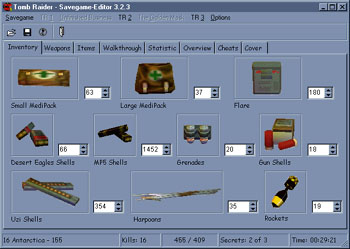 TombEdit
TombEdit by Norbert Wiesinger is a nifty little program that helps you edit savegame files for Tomb Raiders 1-3 for PC. Use the graphic interface (right) to open a savegame. Click a few boxes to change the available weapons, ammo, medipaks, items (keys, artifacts, etc.), bring up your health or air meters, and/or give Lara unlimited health or air. Then save the file, load it and you're back in the game. Nifty!
Download: TombEdit (1.04 MB)
Paul Walton's Savegame Editor
The savegame editor enables users to edit savegames for Tomb Raiders 1-5 for PC.
Download: Savegame Editor (450 KB)
Paul Walton's Position Editor
This utility enables users to reposition Lara anywhere in any level of Tomb Raiders 1-5 for PC by changing her coordinates in any save file. The download includes instructions.
Download: Position Editor (450 KB)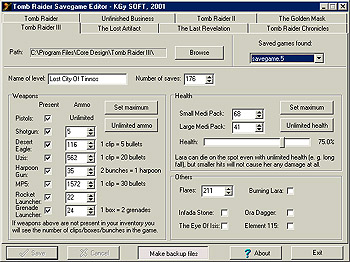 Tomb Raider Savegame Editor (TRSEdit)
This savegame editor was created by Kgy SOFT. It will edit PC savegame files from Tomb Raiders 1-5. You can give Lara extra weapons, ammo, medipaks and flares, increase her health, extinguish her if she's on fire, increase the number of secrets found and much more.
Download: TRSEdit.zip (341 KB)